Fares to Senjojiki Cirque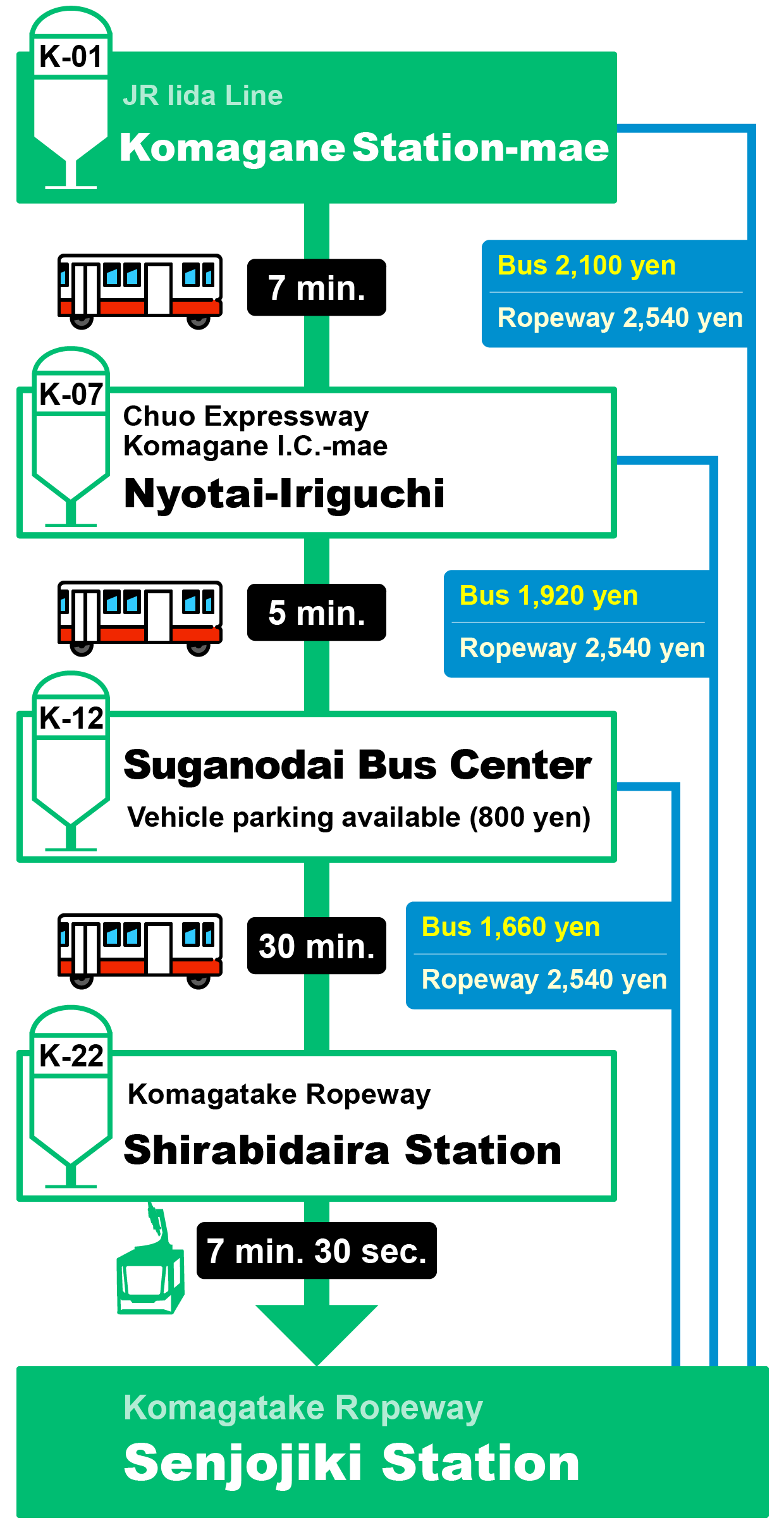 Fares
Ropeway Fare Table
Ticket
Adult/Child
Fare
Round-trip
Adult
¥2,540
Child
¥1,260
One-way
Adult
¥1,370
Child
¥680
Purchase your ropeway tickets at the ticket counters located at Suganodai Bus Center or Shirabidaira Station.
Bus Fare Table
Bus stop
Ticket
Adult/Child
Fare
駒ヶ根駅前
Komagane Station


Visitors arriving by JR Iida Line

Round-trip
Adult
¥2,100
Child
¥1,060
女体入口(駒ヶ根IC前)
Nyotai-iriguchi (Komagane IC)
Visitors arriving
at Komagane IC by expressway bus
Round-trip
Adult
¥1,920
Child
¥960
菅の台バスセンター
Suganodai Bus Center


Visitors arriving by private vehicles

Round-trip
Adult
¥1,660
Child
¥840
Customers taking the Route Bus other than from Suganodai Bus Center must pay the driver the bus fare when getting off the bus.
*Adult fares apply to persons age 12 and older (middle school students and older) and child fares apply to children age 6 and older prior to their 12th birthday (elementary school students).
*Customers traveling together in a party of 15 or more are considered a group. Groups are eligible for discounted ropeway and bus fares if reservations are made in advance.
*1 child age 5 and younger is free when accompanied by another person who is age 6 or older. The second and subsequent accompanied child(ren) per accompanied adult are required to pay the child fare. (For example, one adult traveling with one elementary school student and two children will not have to pay a fare for the two children.)
*Discounts cannot be combined with any other special offers or discounts.
*The ticket counters at Suganodai Bus Center and Senjojiki Station accept credit cards and UnionPay cards when purchasing the base fare (full fare without discounts).
Suganodai Bus Center Parking Fees
Parking Fees
Ordinary vehicle
¥800 per day (24hours)
Motorbike
¥200
Motorcoach
¥1,500
Microbus
Camper
¥1,000 per day
*350-vehicle capacity, flat parking, roofless, 24-hour operation, mechanical
*Extra parking spaces for about 1,000 vehicles are available around Suganodai.
*Parking attendants will be present at peak times.